"Lucky Me" is an upcoming video game from the mind of Mohannad Al-Khatib of the independent studio Artifact 5.
It's inspired by Eminem's music video for "Lucky Me" which features a hilarious scene where masked clones follow Eminem and Joyner Lucas's every move (watch it here, scene starts at 2:45 but the whole video is great).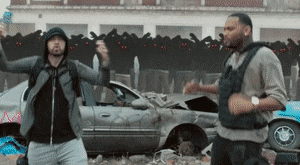 🔥I'm making a game inspired by @Eminem and @JoynerLucas's video. A Puzzle Shooter where talentless hacks copy your every move. Sometimes you have to use their stupidity against them to survive. #LuckyMeGame @ShadyRecords @jameslarese#rap #indiedev #MadeWithUnity #MadeWithBolt pic.twitter.com/jrePoNAEBT

— Mo 😡😡😎😡 PAXEast (@Mo_Art5) January 29, 2019
As the trailer shows, "Lucky Me" is a puzzle game where you pass each level by tricking the clones into defeating themselves.
It's such a clever concept and tie-in to the music video. Share the tweet if you enjoyed it because the creator is trying to get the word to Marshall himself. You can learn more about the game and sign-up for updates on its official site. I can't wait for this game to finish development and release.
Also, sidebar, did those clones remind anyone else of Killzone)?